Your local family run business.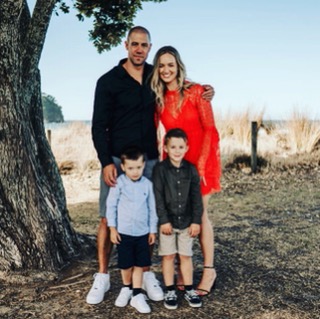 The Family Behind Bespoke Concrete Design
About Nick
Nick learnt the ropes from a young age in his family's concrete business. However, he wanted to push the boundaries and bring something new to the market. Once he discovered GFRC concrete, there was no looking back.
GFRC, or Glass Fibre Reinforced Concrete, completely changes what you can do with concrete. It is durable and lightweight, which lends itself to all sorts of applications, from kitchen benchtops to fireplace hearths to vanities.
With extensive training from leading artisans under our belts, we've brought GFRC to New Zealand. GFRC allows us to create larger, more intricate designs for your home or business. Our clients love their unique, architectural, high quality concrete pieces.
Our Bespoke Concrete Products
Our vast range of custom-built concrete products graces homes and commercial buildings across New Zealand. We believe in the beauty of bespoke, which is why all our pieces are unique and customisable. With a range of colours, shapes and finishes to choose from, every last detail is designed to reflect your personal style.
Indoor and Outdoor Kitchens
Concrete and kitchens are a match made in heaven, concrete lending an industrial beauty and unmatched durability to both indoor and outdoor kitchens. Concrete kitchen products will take your customised outdoor area to the next level while our oversized indoor concrete benchtops will turn your kitchen into the heart of the home.
Bathrooms, Fire Hearths and more
Our stunning statement pieces bring beauty to any bathroom, with vanities and basins you won't find anywhere else. We also build custom, handcrafted concrete fireplace hearths and provide commercial spaces with head-turning countertops perfectly suited to a chic office or Auckland gallery.
Talk to us today about your Bespoke Concrete needs